Overview
Flaunt - Flaunt is the first assessment compiler technology. It converts XML descriptions of assessments into runnable software. It's flexible, powerful and feature-filled. The resulting assessments are responsive, robust and consistent across all platforms.
QTI - Question and Test Interoperability - Your questions might be in a proprietary format or stored in an ad-hoc manner. That's fine if you've made a one-off quiz and you're not expecting to re-use the questions, change the delivery environment or do any re-branding. However, if you want to convert that data into a manageable, transferable asset, you'll be glad to know we'll convert it to QTI XML.

SWF - Flash File Format - Your QTI data will be converted into Flash for your users. Your users will be able to use your Flash assessment because Flash is the most used vector format on the web, compatible with a wide range of platforms and browsers. Flash allows your test to include highly compressed vector graphics, text and interactive elements. Flash also protects your QTI XML source as it doesn't need to be distributed and can't be extracted from your Flash assessment.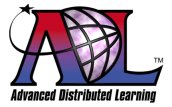 SCORM - Shareable Content Object Reference Model - You may need your assessment to be a SCORM compliant learning object. SCORM ensures your assessment's compatibility with VLEs and LMSs. From the SCORM overview - "The SCORM is a collection of specifications adapted from multiple sources to provide a comprehensive suite of e-learning capabilities that enable interoperability, accessibility and reusability of Web-based learning content." SCORM is heavy in documentation. Fortunately, you won't need to worry about any of it.

Section 508 - Accessibility - Our software is built from the ground up with accessibility as a goal, not as an afterthought. Features include screen-reader support, keyboard control, screen magnification and a color chooser. These combine to make your assessment accessible to a wide a range of people. Whether you have a requirement to comply with existing accessibility legislation or will want to in the future, you can address it now with accessible software.