The Fat Group Case Study
"Don't like filling out surveys as a rule but the format and content of this made me want to complete it. I'm ready for the next one now." -Respondent comment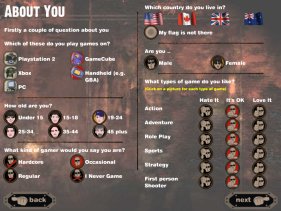 (Screenshot, Click To Try It Out)
Background: It is costly to attract users to take an online survey, typically advertising costs around $2 or $3 per visitor. But the important figure is cost per completed survey. If a lot of the visitors don't complete the survey then the cost per completed surveys shoots up. Many online surveys have a very low completion rate, some as low as 20% of users - that can mean the cost per completed survey is as high as $10 or $15. Often an incentive is used to encourage users to complete a survey, typically an entry in a prize draw or a cash bonus. While this is a good way to attract users, it can lead to users just clicking through the survey as fast as possible, entering the minimum data, just to get to the end. The quality of that kind of data is very poor and is often misleading.
Challenge: The Fat Group is an innovative market research company. They want to gain market insight on some new video game ideas. They want a survey that gamers will actually enjoy completing. They have the game ideas that they want to present and they know what they want to ask. They want it all wrapped up in an online survey that's both fun and engaging for the visitors.
Development. We put this custom survey together in partnership with The Fat Group. The survey includes an interface which is both novel and easy-to-use and which has custom animated graphics, carefully chosen fonts and colours. The look and feel is based on games and games websites, with dark colours and interactive controls.
Results. The survey is available to view on-line (the actual game ideas have been removed for confidentiality). The reponse rate was very high with over 85% of visitors completing the survey and 80% of those who completed the survey asking to be contacted again to complete further surveys. The average time spent of the survey was 20 minutes, with some people taking over an hour to give detailed responses.
We asked the users for their thoughts on the survey. They were overwhelmingly positive. Here's just some of the comments that came back -
"That was by far the most fun I've ever had with a survey. Great job with the interaction, the font, the presentation, everything. All of it made me WANT to take the survey."
"Finally, a survey that doesn't give my modem a bottleneck coronary and with graphics - nice touch."
"The survey was more interactive than most. I like the fact that it loaded on my 56k modem just fine."
"Love the graphical interface and actually enjoyed taking the survey."
"This rocked! loved the survey, giving input, and checking out the new ideas. best of luck!"
"I like this format of survey. Very well designed and simple to use."
"Great format, nice change from those old text-based surveys!"